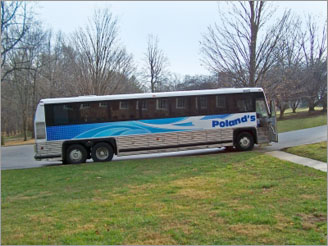 Poland's Bus Service has been a family owned and operated business since the late 1940's. It was founded by Richard (Dick) Poland, who started transporting school children in the late 1940's to Athens Elementary and Somerset Academy. He used a 1946 Dodge Panel, which is sort of like a van today but with no windows.

In 1965, Dick's son Gilbert Poland, with his wife Ruthann, started their own transportation business - Poland's Bus Service. Gib started with a 1956 Chevrolet school bus, and transported children for the Town of Cornville before it was part of the SAD #54 district. Around the early 1970's, Gib and Ruthann expanded to two school buses, operating their buses in the summertime transporting for an area summer camp, as well as a local swim program. Today, Gib has a total of four school buses in operation.

In 1986, Gib and Ruthann's son Donn Poland started working in the family transportation business. Donn drove for his parents for a year before leaving to work for a paper mill in Jay. In 1992, Donn quit the mill and went back into the transportation business, acquiring his own contracts from SAD #54. Today, Donn and his Dad, along with employees, transport school children back and forth to school daily from the town of Cornville for the school district of MSAD #54. Donn also provides transportation for the Town of Caratunk. Poland's Bus Service facilitates transportation needs for several summer camps, church groups, schools, and other organizations that keep his buses running all summer long.

Donn is responding to the growing needs of Central Maine by offering a much needed chartered motor coach service. He has recently purchased a motor coach and offers chartered tours, available to any organizations that would like to hire a motor coach and driver for their transportation needs. Anyone who may be interested in this service can contact Poland's Bus Service, Inc. and receive a free estimate. He also offers trips to Foxwoods Casino, Mohegan Sun Casino, and Hollywood Slots in Bangor, New Hampshire, Boston, and New York, just to name a few destinations. Donn is also anxious to offer this service to area schools and colleges too.

Poland's Bus Service, Inc., will continue to offer their school buses for shorter destinations if necessary. Poland's Bus Service, Inc., is located in Norridgewock, ME, and can be contacted at (207) 474-8600 or e-mail polandsbus@gmail.com. Poland's Bus Service, Inc. is excited to bring this type of transportation.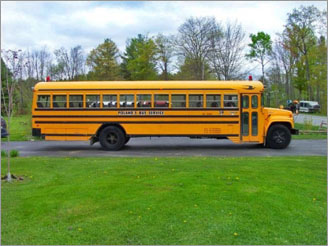 Poland's Bus Service a family owned business that has provided safe and reliable transportation in the state of Maine for over 40 years. The safety and security of our passengers is our number one priority.

During the school year, Poland's Bus Service contracts with local school districts to provide transportation needs for hundreds of children every day. This is why our buses must meet the highest safety regulations, receiving two state police and two state certified inspections each year.

Poland's Bus Service offers transportation to many local organizations, including: Area Swim Programs, Summer Camps, Boy and Girl Scouts, Church Functions, Colleges, Etc.

We also furnish out state services and overnight stays. Please contact us to request a charter tour.
Package Trips & Rates:
Portland Area: $350
Saco: $370
Bangor Area: $320
*Rates will vary depending on fuel prices.
*$10 per hour waiting fee is required.
*Prices are per bus departing from Skowhegan.
*Applicable mileage fee will be applied to trips departing from other areas.
*Please
contact us
for other rates & destinations.